The first reaction I get from people after I have told them I am a midwife, is usually a repulsed look. Knowing it was coming, I give a little icebreaker chuckle, hop on my soapbox, and start my usual rhetoric. "No I don't do homebirths or waterbirths." "Yes I deliver in the hospital." "Yes my patients can choose to have an epidural." "Yes I do shave my legs."
(I thought these same things before I went to midwifery school.) My husband actually had a client ask him if I wore makeup when she asked about what I did for work. This is a very typical response. 
Or maybe you pictured a midwife from the hit show from the BBC's Masterpiece Theater, Call the Midwife.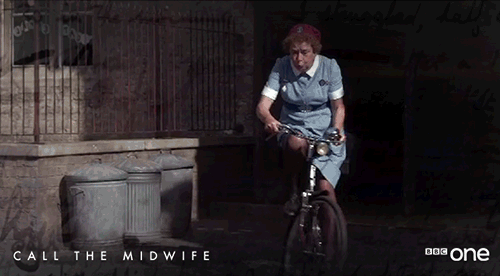 So here's the thing. Midwives have been around since the beginning of time, of course having been called by different names. Historically women have had the support of other women to help them during labor and birth. I tend to agree the name midwife is a little old school and has a negative connotation. Probably because many people hear about bad birth outcomes from homebirths or waterbirths. 
The literal meaning of midwife is "with woman". So if you think about it, its actually a really cool term. We care for women of ALL ages. We don't just specialize in pregnancy, but in all female matters. Many of us midwives have a dual degree and are Women's Health Nurse Practitioners. Another way to think of midwives would be an OBGYN Nurse Practitioner. 
We have similarities to OBGYN physicians (OBs). We both have post graduate educations, specializing in female related concerns or issues. We adhere to national recommendations and guidelines, so we do the same testing as OBs. As midwives, we have a certain scope of practice, so midwives and OBGYN physicians often collaborate together. They back us up in any case of urgent or emergent situations. 
We have some differences too.  
The biggest difference is the care we provide once you have begun the labor process when you are pregnant. Once you are actively laboring (usually around 5 cm cervical dilation) we join you at the hospital and are there to support you through your birthing journey. We deliver your baby and do any stitches or repairs necessary. We stay to help get you cleaned up and then initiate breastfeeding, if you so desire. Most OBGYNs come in once you're crowning, deliver your baby, address any repairs needed, and are home before too long. 
As midwives, we are passionate about personalizing your care to your needs. We believe pregnancy is a normal part of a woman's life cycle, NOT a medical issue. We have longer appointment times, because we value the importance of addressing your questions and concerns. We offer education. Don't you want to know more about what's going on in your body than just being told "you have a problem and here's a way to treat it?"
Think of midwifery care as individualized to your needs. As a midwife, we see the importance of empowering you to know your body and understand why it is the way it is.
Please reload